| | | | |
| --- | --- | --- | --- |
| 2009, Macomb IL Ghost Tour 1 | | | |
Written by Webmaster
In 2009, we revisited the Macomb, IL Ghost Tours given by A Midwest Haunting (see their website at http://www.amidwesthaunting.com or visit their updated pages on Facebook (search groups for "amidwesthaunting")). 

This tour included a sewing shop, a haunted alley next to the old police station, the Old Bailey House, and an Art Museum that used to be a Masonic Temple. 

More details will follow, including an interesting EVP from the sewing shop, but we found the following two photos from the Old Bailey House to be interesting.  (See the 2007 Macomb Ghost Tour article for some more interesting photos from this location!).

Once again, it appears we may have caught something unusual around the piano.  Looking above the piano, there almost appear to be two faces, a large one and a small one, hovering above it!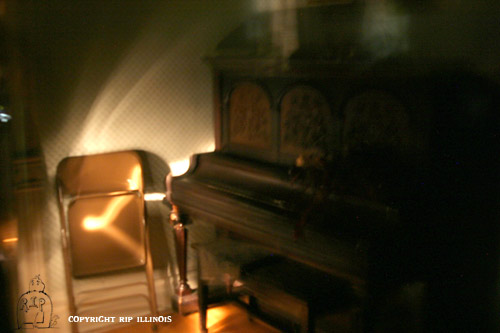 The second picture is of a portrait in the dining room of a woman who used to live in the house.  Though this phenomenon is probably caused by camera motion during the long exposure (disregard the shadows next to the portrait as well as the lights, as those were definitely caused by the long exposure), we found it interesting that there is almost a second, ghostly figure that appears above and slightly to the right of the woman's head in the portrait.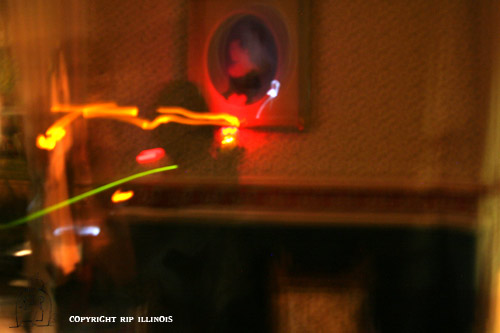 We will be returning to Macomb on Oct 24, 2009, so it will be interesting to see what else turns up!