| | | | |
| --- | --- | --- | --- |
| 2007, Macomb, IL Ghost Tour | | | |
Written by Webmaster
The 2007 Macomb, IL Ghost Tour was given by a group in Macomb called "A Midwest Haunting".  Their website can be found at http://www.amidwesthaunting.com, or they can be found on Facebook (where their most updated information can be found) if you search under group for "amidwesthaunting". 

During this tour, we visited the newspaper building, an alley next to the old police station where several police officers were killed, the McDonough County Courthouse, and the old Bailey House. 

All were very creepy locations to visit.  The following picture was taken at the McDonough County Courthouse, towards stairs where a lawyer died of a heart attack (he died on the landing at the bottom of this flight of stairs).  His spirit is said to remain to this day.

Nothing paranormal in the picture (the colored dots in the center are probably due to the light reflecting on the camera lens rather than orbs), but a neat picture so we thought we'd include it.  Some stories say that people coming up the stairs from the floor below experience trouble breathing and a heavy feeling in their chests...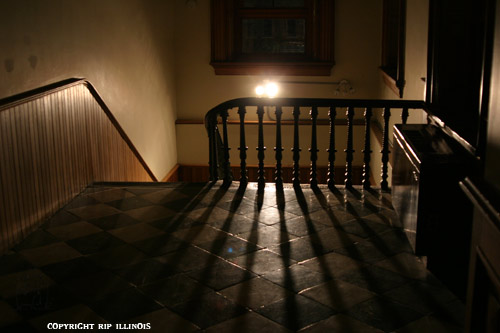 The best picture came from the Old Bailey House, though.  In taking random photos, first without the flash, then with the flash, of various rooms in the house, we captured this photo in the piano room.  Look closely at the right of the images.  The first image is unmodified, the second has been lightened (nothing added to the photo), and the third image was taken seconds after the other two using the flash.  In a subsequent investigation, it was found that there was a photo in the dining room of a woman who used to live in the house wearing a black dress with a white collar...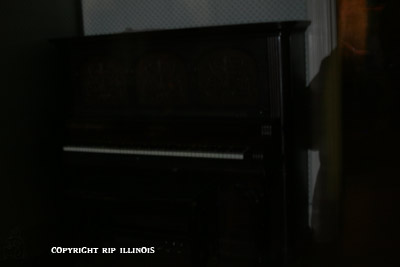 No flash, unadjusted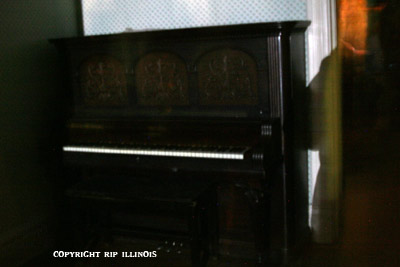 No flash, imaged lightened.  Note the woodwork showing behind the figure!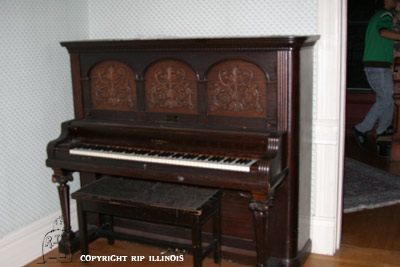 Same piano, picture taken seconds after the first, but with a flash. 

Ghost?  Or something else?  We'll leave that up to you to decide...but we look forward to visiting the Old Bailey House again!